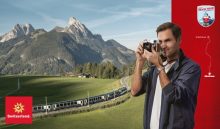 Switzerland Tourism has unveiled its new film for its ongoing 'I need Switzerland' campaign to promote rail travel and the Grand Train Tour of Switzerland. After having collaborated on screen with Robert De Niro in 2021 and Anne Hathaway in 2022, tennis legend and the global brand ambassador of Switzerland Tourism- Roger Federer will now partner with Trevor Noah, international comedian, for the film. Titled 'The Ride of a Lifetime', it showcases the ease and efficiency of the Swiss Travel System and highlights the famous panoramic rail routes that combine to make the Grand Train Tour of Switzerland.
The film, directed by Oscar-winning director Tom Hooper, features the iconic duo getting ready to take a train as part of a shoot to promote the Grand Train Tour of Switzerland. They soon realize, they've gotten onto the wrong train on a different route to Interlaken, leaving the crew behind. Left on their own, Federer and Noah travel through Switzerland's striking landscapes and find they're having a great time even befriending a kind local lady for company who pays for their tickets. Once they hop off, the crew finds them just in time to take them back on the train they're meant to be on, but they've had such a blast, they give the team the slip and run to catch another panoramic train ride on the route!
The route they take in the film is a part of the Grand Train Tour of Switzerland, the 1,280 kilometres train tour that leads from the most charming Swiss cities like Lucerne to Alpine villages like Zermatt, and through UNESCO World Heritage sites, impressive natural wonders such as the Rhine Falls and majestic mountains such as the Jungfraujoch, Titlis or Matterhorn. It allows visitors to explore all this and more, all year round, in comfort and at their convenience.
One can experience the entire tour with only one single ticket – the Swiss Travel Pass. This pass is the key to the Swiss public transport network. Visitors can hop on to Swiss trains, buses, trams and boats with this pass that can be bought for 3, 4, 6, 8 or 15 days. To give travellers even more time to explore the Grand Train Tour of Switzerland, there is a global Swiss Travel Pass promotion. As part of the special offer, from 15 April 2023 to 14 May 2023, up to two additional travel days will be added free of charge when buying an eligible Swiss Travel Pass.
This is Roger Federer's third outing showcasing some of the most stunning sights, experiences and culture of his home country, raising the bar each time and setting new standards of national tourism advertising with Switzerland Tourism. In 2021, Federer featured in a film titled 'No Drama' with Hollywood legend Robert De Niro showcasing the 'too perfect Switzerland' and in 2022, he started alongside the super-talented actress Anne Hathaway to promote road trips as part of the Grand Tour of Switzerland.