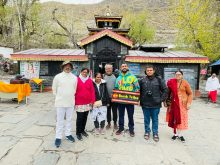 A new YouGov research reveals that the pandemic has fuelled the appetite for travel across the globe, and nearly three in five urban Indians state that travel has become more important to them since the pandemic (57%) compared to one in eight who disagree with the statement (12%). Agreement is higher among affluents* in India, with three-quarters of them saying so.
YouGov's Global travel & tourism whitepaper 2023 covering 18 international markets, gets under the skin of high-end travel, to understand what luxury travel looks like post-pandemic. It focuses on the attitudes and behaviours of affluent consumers, particularly the affluent under 35s – the audience that will shape the luxury travel industry of the future.
Looking specifically among the affluent travellers in India, we see that travelling with a wider group of family or friends continues to be the top travel activity year on year. Almost two in five (37%) have travelled with a wider group in the past twelve months, and the same proportion intend to do so in the forthcoming 12 months. Even though this is the top activity, taking a luxury rail trip sees the largest increase (of +8% points) from the previous year. Another travel activity that affluent Indians are planning on undertaking to a greater extent in the next 12 months is taking a longer holiday than usual or taking a cruise (+5%pts each).