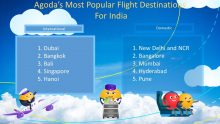 As travelers take to the skies once again, digital travel platform Agoda offers the most popular domestic and international flight destinations so far in 2023.  In India, the most popular international destination is Dubai, followed by Bangkok, Bali, Singapore and Hanoi. The ranking shows a clear preference for Southeast Asia, with four of the destinations falling in that category. Domestically, Indians are taking off for New Delhi and NCR, Bangalore, Mumbai, Hyderabad and Pune, rounding out the top five.
Based on Agoda's booking data, four of the five most popular international flight destinations are nestled in Southeast Asia, with Bangkok in first place. Singapore in second, Vietnam's Ho Chi Minh City in fourth, and Malaysia's capital Kuala Lumpur in fifth also represent Southeast Asia. Seoul, South Korea splits the top five, coming in as third most popular international flight destination.
"Many factors contribute to the popularity of Southeast Asian cities", said Andrew Smith, Senior Vice President of Supply, Agoda. "These cities represent five bustling metropolises, with rich culture and history, an exquisite culinary scene, and unique nightlife. Even with airlines expanding their routes and fleets, I wouldn't be surprised if we'll see these amazing destinations ranking high for years to come."
Agoda has built a global reputation as an online platform for booking hotels and holiday homes, but has seen an increase in flight bookings since the platform launched in 2019. Currently, more than 1,30,000 flight routes can be booked on Agoda.